Check it out! Awesome success story here: my last project, ysnmn.org, is live! It's a place for homeless youth to find beds and services in Minnesota. Also, we made it to the front page of Hacker News!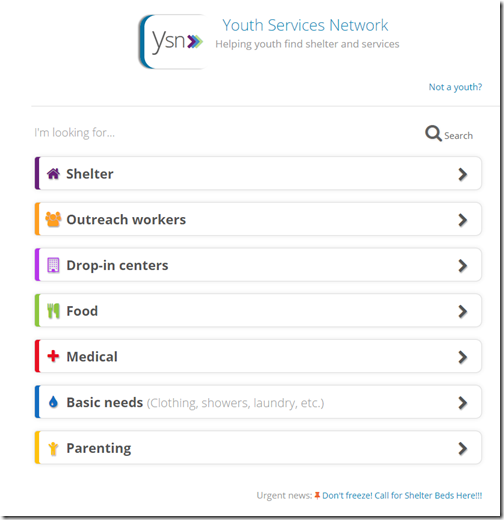 I'm a big fan of helping people, and I think this project really does that.
Imagine you're a homeless 16 year old. You need food, you need a bed to sleep in. Somewhere to shower. Cheap clothing. Maybe you need medical care or counseling. Or help with parenting your child. Maybe you're looking for a way to finish your education and get back on your feet and off the streets.
Enter ysnmn.org. You pull out your phone, go to the website. Instantly you can see shelters nearest you: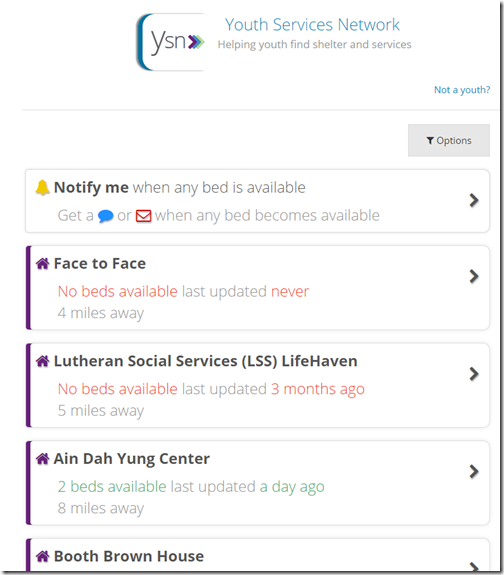 What buses to take from your current location to get to a drop-in center: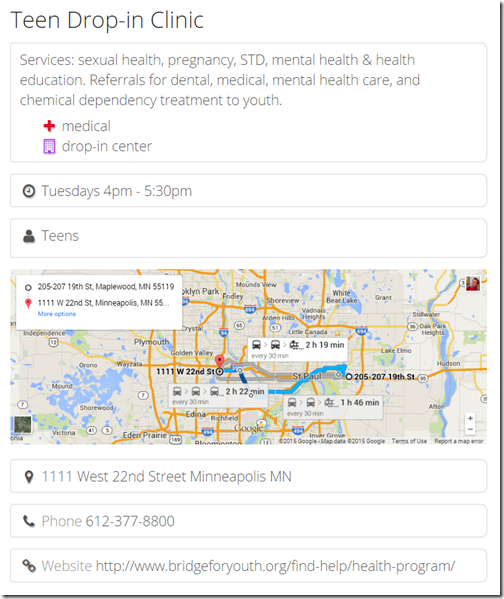 What food shelves are opened and what they serve: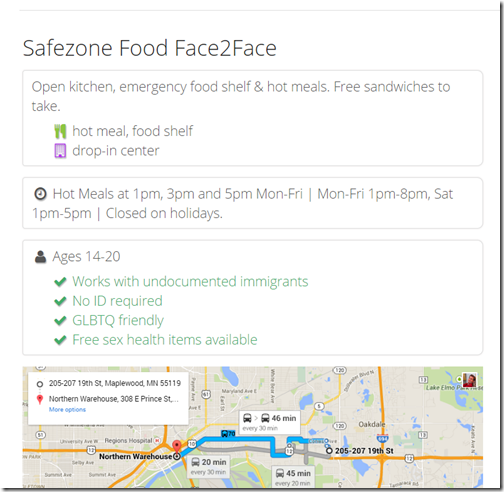 What phone numbers to call, where to get medical help: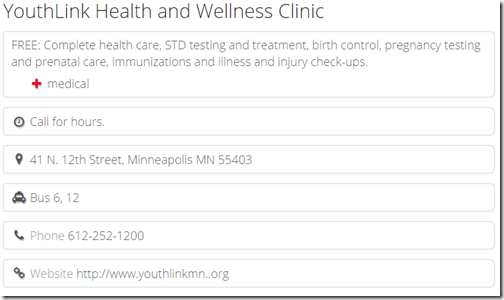 Where to find a warm bed for the night: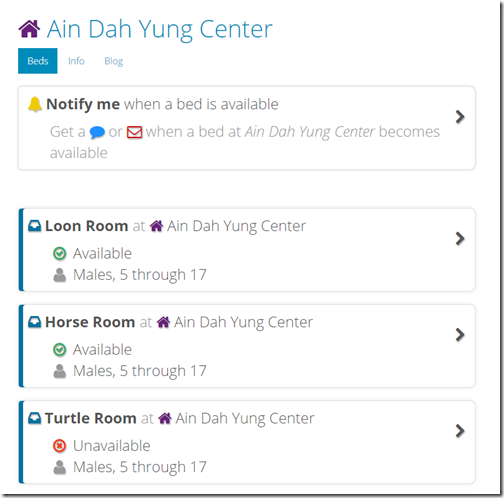 Or maybe you just need to be notified when a bed for a female 16 year old becomes available: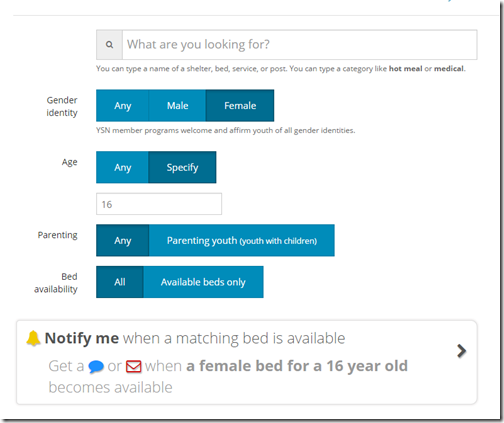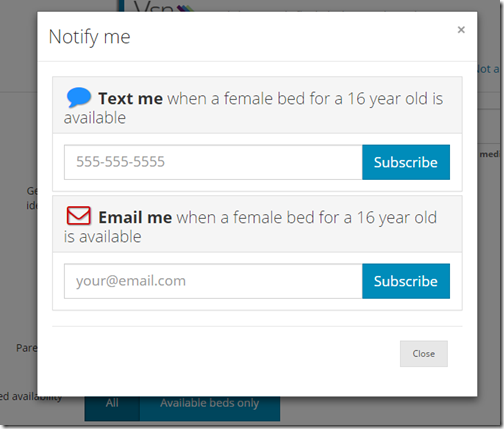 It was such a pleasure building this thing! Working with people who are actually doing good in the world through helping homeless youth is a big win. It's so satisfying building something for goodness, rather than just for business. The most memorable moment on the project was testing the app with youth ambassadors; I remember one of the kids turning to me and saying, "I wish I had this when I was homeless." Big smile right there on yours truly.
Technologically, I had a blast building the app as the lone developer!

This was a nice change from my previous gig. I had quit my consulting day job to take this project – working as independent consultant in the process – and being the lone developer, I was able to architect the app as I saw fit. We were required to use the Microsoft stack, seeing as how they funded development. But I was cool with that – C# is a great language, Azure is increasingly a solid platform, and TypeScript on the client was a pure joy. I would have preferred to use RavenDB over MS SQL, but aside from that, the freedom of architecture was quite liberating from previous projects working as a cog in a bigger corporate team.
It was my first stab at using AngularJS. I had built Knockout, Durandal, and classic MVC apps in the past, but this was my first stab with Angular. I liked it enough that I've adopted it for most of my side projects.
Many shout outs to Microsoft and their Azure group, and particularly Adam Grocholski who not only facilitated this, but also helped us secure some additional credits and put out a few fires during development, and his wife Ann Marie Grocholski who heads up one of the local youth shelters. You guys rock!
A big thank you to the Target Foundation, who helped fund this project with a generous grant.
A big shout out to DevJam in Minneapolis. They approached me to build this project, paid me a nice sum, provide great working environment, and are generally very cool people. I had a great time working with them. Special thanks to Matt Bjornson who worked with me and the shelters the whole time, came up with some great mockups for the UI, and saw this thing to completion. Special thanks to Susan Greve for recruiting me onto this project. So glad I took it!
A shout out to Twilio, particularly Kevin Whinnery, who helped us get started with Twilio and gave us a bunch of free credits. We are putting them to good use, using them to text homeless youth of available beds. Winning!
A shout out to SendGrid and their social network people. I showed them an early prototype of this app, told them I intended to use SendGrid for emailing homeless youth when beds became available. Their reaction? A big account with lots of free credits, plus a t-shirt for yours truly!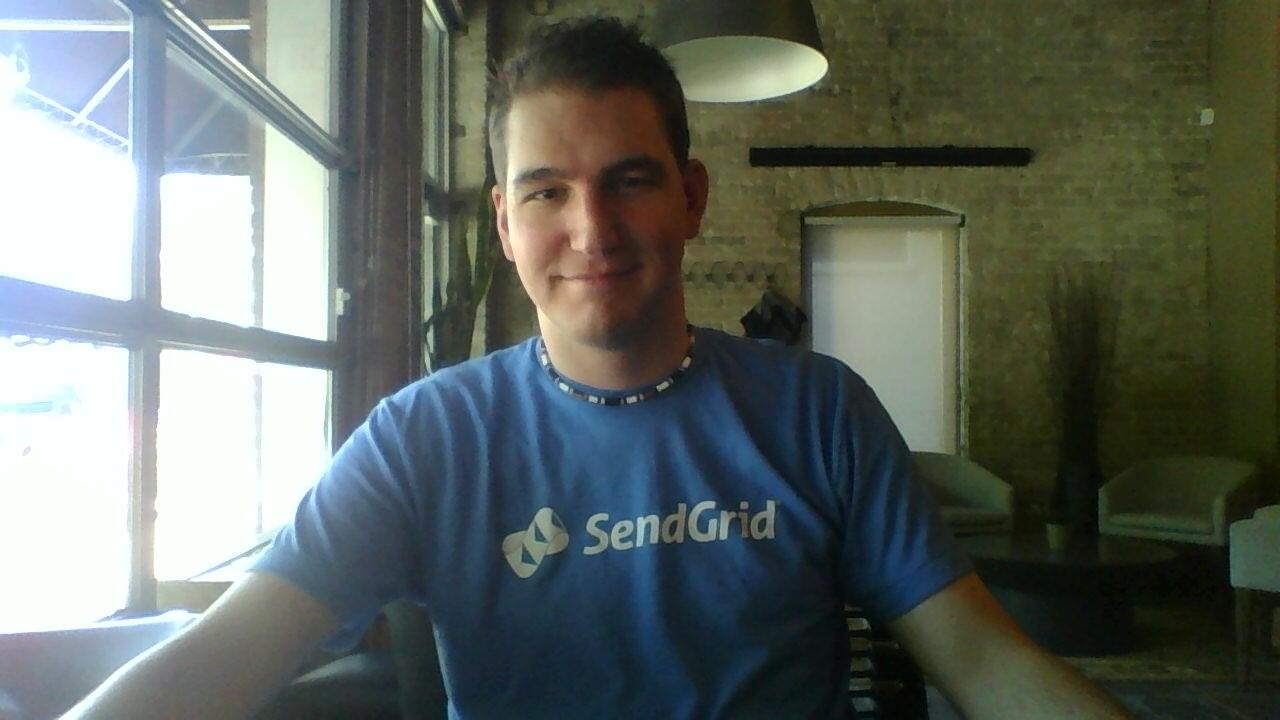 This was a great project. I hope to work on more like it.