Summary: Web development is chaotic, overwhelming, and beautiful. How many technologies does it take to build something useful on the web? You might be surprised. Advice for developers getting into web development.
---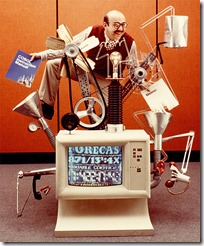 This week I was working on my open source startup project, BitShuva Radio. I acquired a new client this week, but this client was unique because he's a Java developer and wanted to know how to edit the open source code for his new radio station.
As I typed out my answer, it dawned on me that the sheer number of  technologies utilized in building a useful web application is staggering. That they actually work together is a testament of the beautiful soup that is web development today.
How many technologies does it take to build something useful on the web? Here's my answer:
Holy cow!
Here's the final tally of languages, frameworks, and tools used:
5 languages – C#, TypeScript, LESS, .cshtml Razor syntax, plus bits of plain JavaScript here and there
5 UI JavaScript frameworks – KnockoutJS, jQuery, UbaPlayer, Knockout.postbox, Twitter Bootstrap.
6 server-side .NET frameworks – RavenDB, MVC 4, MVC Web API, Reactive Extensions, Interactive Extensions, Web Optimization Framework.
3 tools – Visual Studio 2012, TypeScript tools plugin, Web Essentials plugin.
The sheer number of tools required to really build something useful on the web is staggering. You get the sense of why desktop developers — who often work in just a single language + UI framework (e.g. C# + WPF) — are hesitant to embrace the web. It requires massive retooling.
And to be truthful, this is only my beautiful web soup. I chose C# + KnockoutJS + TypeScript + LESS, but other web devs might prefer Ruby + BackboneJS + CoffeeScript + SASS. Or something entirely different.
The great thing is, there is so much evolution going on in web development space today, and this produces unique and specialized toolsets that help move the web forward. For example, languages like CoffeeScript and TypeScript are influencing the future direction of JavaScript.
It's a fun time to be in web development.
My advice for developers? Learn a few web technologies that pique your interest and cook up your own beautiful web soup.